Welcome to the 2016 Event
Vendors, sponsors, and benefactors, please accept our thanks for another Hunting and Fishing Days event. This was our 29th year, and 2017 brings our 30th anniversary. We plan to make it special. Planning and preparation has already begun. We look forward to, and are planning for, the best show ever. Again, thank you all so much.
Event Sponsors
TITLE SPONSOR - GANDER MTN.

Black Diamond Harley Davidson

Friends of Crab Orchard Refuge

McDonalds Moreland/Bishop ORG
Mossy Oak Properties

State of Illinois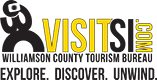 Williamson County Tourism Bureau